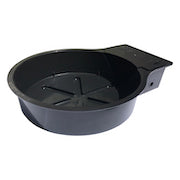 1Pot XL Tray and Lid with Grommet
This listing includes 1x 1Pot Tray, 1x 1Pot Tray Lid and 1x Grommet.
The Tray and Lid may also be used with an
AQUAplate Circle Kit
(pot and circle kit not included). The tray requires an AQUAvalve5 to function as part of an AutoPot Watering System. Additional fittings to connect to an existing system may need to be purchased.
We recommend using
root control discs
inside the pots or
PotSock Rounds
(not included) on the bases of your pots to prevent your plant's roots from impairing the performance of the AQUAvalve5.