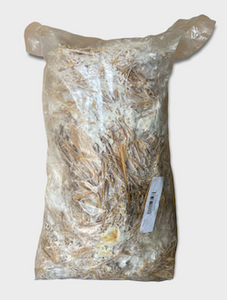 Blue Oyster Mushroom Straw Log (Living Mulch)
Description
LIVING MULCH!!!!
VIRGIN BLUE OYSTER STRAW LOGS have never been fruited and are ready for you to grow fresh mushrooms and/or use as the best mulch in the world.
Made from certified organic straw and a specially selected Blue Oyster colonized grain. All lab work done right here in Western Colorado.
Populated with lots of Fungal activity these Blue Oyster Mushroom Straw Logs are now made from scratch locally here in Western Colorado.
LIVING MULCH!!!!!
Important to note: The Photos shown were incubated for 2 weeks.
They are freshly inoculated and incubated for 5 days before delivery to BAS
Logs may take 1-2 weeks to fully colonize, this can vary up to 3-5 weeks if shipped during cold weather months, 30-50 degrees while in transit.
Best to colonize log in 65-75 degree temps once Straw log is received, does not need to be in a dark location, but kept out of direct sunlight
Logs are inoculated with a mixture of colonized oyster mushroom mycelium on Sorghum (Milo) and Oat grain.