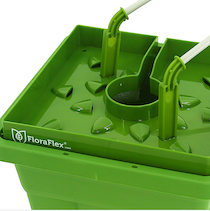 6" FLORACAP® 3.0 | HYDROPONIC DRIP TRAY FOR 6" POTS, COCO COIR OR ROCKWOOL CUBES
Introducing the FloraFlex 6" FLORACAP® 3.0, the revolutionary hydroponic drip tray designed for 6" pots, coco coir, or rockwool cubes. With its innovative features and exceptional performance, this tool takes top feeding to the next level, ensuring healthy and thriving plants while eliminating algae growth.
The FLORACAP® 3.0 boasts 26 flower-designed louvers that deliver water, nutrients, and air to the medium while blocking out harmful light. This ensures a more consistent flow rate, even distribution, and improved stabilization, maximizing the potential of your plants during the vegetative cycle.
Achieve automation and save time with the FloraClips and Tubing (1/4" OD) setup. With just (2) FloraClips, you can easily automate the feeding process, providing your plants with the perfect amount of water and nutrients.
Stability is a priority, and the FLORACAP® 3.0 delivers with stakes on the bottom. These stakes provide extra support and stability, ensuring that your tray remains in place.
The FLORACAP® 3.0 is designed for convenience and efficiency. It features holes in all four corners, allowing for efficient drainage of leftover water. Made from BPA and lead-free plastic, this tray prioritizes safety and durability. It is dishwasher safe, stackable, and reusable, making it a sustainable choice for your hydroponic system.
Key Features
Compatible with 6" rockwool cubes, smartpots, and fabric pots
26 flower-designed louvers for precise water, nutrient, and air delivery
Automation-ready with (2) FloraClips and Tubing (1/4" OD)
Stakes on the bottom for added stability
Holes in all four corners for efficient leftover water drainage
Made from BPA and lead-free plastic for safety and durability
Dishwasher safe, stackable, and reusable for convenience
Patent-pending design for innovation and superior performance
Product Details
Compatibility: Designed for use with 6" rockwool cubes, smartpots, and fabric pots
Louvers: 26 flower-designed louvers for precise water, nutrient, and air delivery
Automation: Requires (2) FloraClips and Tubing (1/4" OD) for automated feeding
Stability: Features stakes on the bottom for enhanced stability
Drainage: Holes in all four corners allow for efficient leftover water drainage
Material: Made from BPA and lead-free plastic for safety and durability
Cleaning: Dishwasher safe for easy maintenance
Stackable: Stackable design for space-saving storage
Reusability: Reusable for long-term use
Patent Status: Patent pending for its innovative design