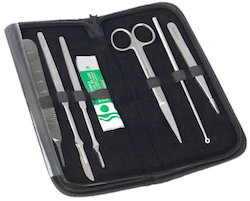 7 pc. Stainless Steel Mycology Lab Instrument Set
A $43 value!
Our mycology lab instrument set was designed to make mushroom cloning, culturing, and general laboratory work easy. Each kit is housed in a zippered carrying case for easy portability and contains the following corrosion-resistant stainless steel instruments:
(1) Stainless high-precision needle-nose tweezers
(1) Stainless straight-blade dissection scissors
(1) Stainless one-piece scalpel w/ integrated blade
(1) Stainless inoculation loop
(1) Stainless grooved scalpel handle #3 w/ metric ruler
(1) Stainless flat scalpel handle #7
(4) Stainless #10 sterile scalpel blades
(1) Zippered carrying case
PLEASE NOTE: To maintain the integrity of your stainless steel lab instruments and to prevent staining, always follow the cleaning instructions below.
⚠ CUT HAZARD:
IMPROPER USE OR CONTACT MAY RESULT IN INJURY.
Always keep blades and sharp edges away from fingers and body. Do not use if blades or sharp edges are dull or otherwise damaged or if the handle is broken or loose. Do not pick up by the blade or sharp edge. When not in use, store in a safe place.