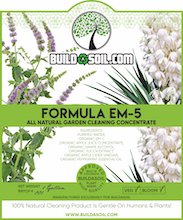 BuildASoil Formula EM-5 - All Natural Garden Cleaning Concentrate
Ingredients in our Formula EM-5:
Purified Water, Organic EM-1, Organic Apple Juice Concentrate, Organic Grape Alcohol, Organic Yucca Extract, Organic Apple Cider Vinegar, Organic Peppermint Essential Oil. This is safe to spray on flowers when diluted and is best used throughout the growing season.
Formula (EM5) RECIPE for home made:
As always, we are giving you the recipe to make your own spectacular homemade plant wash. The fermentation extracts properties out of plant materials and the alcohol and retains them in the liquid. The EM in the recipe is the fermentation catalyst. This is an all-natural concoction that can be made by anyone and is not harmful to humans or animals. It combines water, EM, a distilled spirit, molasses, and vinegar. The most successful programs with BAS Plant Wash involve alternating its applications with Activated EM and EMFPE. The essential oils that are the active ingredient in the BAS Plant Wash are exempt from EPA registration as a minimum risk pesticide.
The formula for one gallon of EM5 is as follows (1:1:1:1:20):
3/4 C EM
3/4 C Molasses
3/4 C Vinegar (white or apple cider)
3/4 C distilled alcohol (vodka, whiskey, tequila)
Add some other plant material (fresh hot peppers or garlic...or fresh herbs that have known pesticide properties like mint leaves, lavender, eucalyptus, mella luca, neem, etc.)
Fill the gallon container with warm water (110-120F)
Seal and ferment until pH goes below 4.0