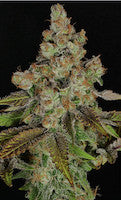 Anaphylaxis
Mass Med. Strains
Anaphylaxis (Peanut Butter Breath x Deadly Sativa)
Created by MMS
Flower: 9 weeks [Photo]
Yield: high
Height: Medium-Tall. Does well with topping.
7 Feminized seeds
3rd place flower -Organic cup 2020
Our latest award winning collaboration with thug pug genetics, anaphylaxis combines both styles in a very unique advantageous way to create a totally unique plant. Aroma and flavor of citrus, haze, melted butter, gasoline, lemon, pine, lacquer, solvent, and cookie dough funk mixed in.
We encourage all customers to follow the laws set forth by their Country, State / Province and local municipalities. Any Seeds sold will be considered sold FOR NOVELTY PURPOSES ONLY! All seeds are tested and contain less than .3% THC. We take no responsibility if they are used in any fashion that can be considered illicit or illegal. All sales are final.