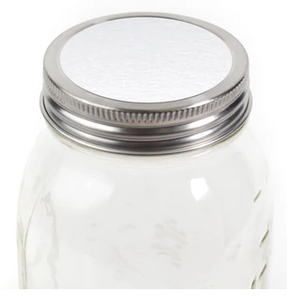 Autoclavable Disc Filters for 'Regular Mouth' Mason Jar Lids
| | |
| --- | --- |
| Filter | 0.3 micron |
| Autoclavable? | Yes |
These 70 mm synthetic 0.3 micron filters are sized to fit perfectly between a mason jar lid and band. Ideal for jar culture, these filters allow air exchange while keeping contaminants out. Simply poke one or two 3/8" to 1/2" holes in the canning jar lid and then place the filter on top and secure with band.
Filters are sterilizable and reusable. A self-healing injection port can also be attached to the filter. 
Looking for port-adjacent jar lid filters? Click here.
*Jar and lid not included.