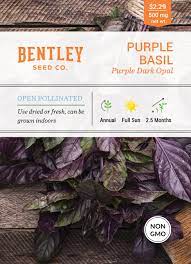 Basil- Purple Dark Opal
Gorgeous purple color and excellent basil flavor, dark opal basil is a great choice for cooking and garnishing!
To start inside, plant purple basil seeds 1/4 inch deep in starting mix. Transplant 10" apart after all danger of frost has passed. To start outside, plant dark opal basil in late spring when danger of frost is passed. Thin to 10" apart. Great for both containers and gardens! Very frost sensitive.

SEED INFORMATION:
Lifecycle:

 

annual
Time to Maturity:

 

about 2 1/2 months
Sun Requirement:

 

sun
Spacing:

 

8" apart
Depth:

 

1/4 inch
505-515 Purple Basil Seeds Per Packet 
Bloom Season:

 

n/a
Height: 12-18"
Uses:

 

edible, dried, container, indoor/outdoor
Low Maintenance :

 

n/a
Seeds/Oz: 14000
Ideal Germination Temperature: 60F
Sowing Method: Transplant