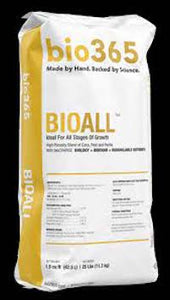 bio365™ BIOALL™
bio365™ BIOALL™ is a high porosity blend of peat, coco and perlite. Contains Bio Charge® biology + bio Core® Biochar + bioavailable nutrients. It is an all-purpose engineered living media, made compost-free in bio365's indoor controlled-environment facilities. This carefully crafted blend is nutrient-dense and biologically active, combining bioavailable organic nutrients, coir, peat, and perlite, with patented Bio Charge® technology. BIOALL™ contains up to five weeks of nutrients with plenty of nitrogen, designed to produce lush vegetative growth through the initial stage of flowering, without requiring additional inputs. The dual biochemical buffer, enhanced by the BioCore® Biochar in Bio Charge®, ensures an easy-to-use soil for both new and experienced cultivators. From nurseries to full-cycle growing; whether outdoors, in greenhouses, indoors, in large containers, or small containers - BIOALL™ is a soil that can be used in every circumstance. BIOALL™ can also be paired as Part 1 of a two-part system, along with BIOFLOWER, for growers who transplant and prefer that their plant receives most of its nutrition via the biological delivery of bioavailable organic nutrients in the soil, while supporting both organic and salt-based feeding regimens.
Guaranteed Analysis : 0.45-0.18-0.40
BIOALL™ Grow Bags are available in 1.25, 2, 3, 5, 7, 10 and 20gal sizes
Also available in 1.5cu ft Bags and 4-Yard Super Sacks
Manufactured and stored 100% indoors and compost-free in bio365's controlled-environment production facilities.
Multi-patented technologies provide high-performance organics that minimize pest and pathogen pressures.