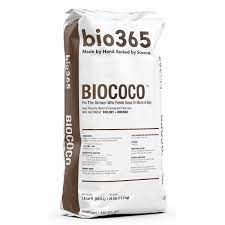 bio365™ BIOCOCO™
bio365™ BIOCOCO™ is a high porosity blend of course and fine coco. Contains Bio Charge® Biology + bioCORE® Biochar + ultimateAIR™. Unlike commodity coco, BIOCOCO™ is a new category of engineered and manufactured organic media, made to exacting standards in bio365's entirely indoor, controlled-environment US facilities. Highly responsive and designed to maximize cultivator control, BIOCOCO™ is the ultimate upgrade from commodity coco or rockwool substrates. BIOCOCO™ enables true plant-steering in all dimensions. Cultivators can fine tune a wide-range of both fertigation and irrigation techniques; from pulse-feeding to dry-stressing, allowing growers to maximize both plant chemotype expression and yield. A perlite-free combination of our patented Bio Charge® technology with a proprietary ultimateAIR™ blend of different types of coir, sourced from different continents to create class-leading air-filled porosity. It is a pre-hydrated product made on computer-controlled equipment with precision recipes, providing cultivators with a consistent, pH stable, low EC, dual biochemical-buffered media that is immediately ready-to-use. Suitable for both organic production and salt-based feeding regimens.
Guaranteed Analysis : 0.20-0.05-0.30
BIOCOCO™ Grow Bags are available in 1.25, 2, 3, 5, 7, and 10gal sizes
Also available in 1.5cu ft Bags and 4-Yard Super Sacks
Manufactured and stored 100% indoors and compost-free in bio365's controlled-environment production facilities.
Multi-patented technologies provide high-performance organics that minimize pest and pathogen pressures.