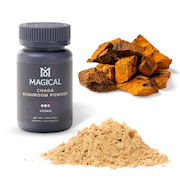 Chaga Mushroom Powder
Description
Magical Chaga Mushroom powder is a superfood. A functional mushroom powder that supports anti-aging and maintains a youthful radiance. Balances your metabolic system and provides daily immune health support. This recognized mushroom is known to have some of the highest levels of antioxidants plus dietary fiber and prebiotics for gut health.‡
---
For Best Results:
Chaga Adaptogenic mushrooms should be taken daily. Easily incorporate 1 teaspoon into your daily wellness routine. This versatile mushroom powder can be added to smoothies, coffee, tea, juice, soups, sauces, and more.‡
---
Mushroom Supplements: 
Gluten-free, vegan, grown in the USA, paleo-friendly, keto-friendly, kosher. Our Magical Chaga Mushrooms are USA grown in Southern California and third-party lab tested to ensure the highest quality.  Here at Magical, we believe in the power of functional mushroom supplements to improve health and happiness.‡

---
Benefits of Chaga: 

Immune Defense 
Sacred Antioxidants 
Promotes Anti-Aging 
Balances metabolic system- natural adaptogen

‡




---
What Are Chaga Mushrooms:
Chaga mushroom (Inonotus obliquus) is a type of fungus that grows mainly on the bark of birch trees in cold climates, such as Northern Europe, Siberia, Russia, Korea, Northern Canada, and Alaska. For centuries now, Chaga has been used and harvested as a traditional medicine to boost immunity and overall health. Often referred to as the "king of medicinal mushrooms"‡
---
Supplement Facts:
Serving Size: 2 grams (Approx. 1tsp)
Servings Per container: 25 
Calories: 10 Per serving 
Mushroom Blend (2g): Chaga (Inonotus Obliquus), mycelial biomass ad fruit body powder cultured on oats.