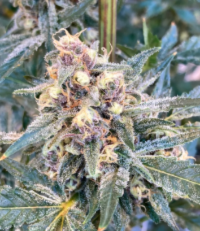 Chupil
Chupil (UK Cheese S1 (CSI) x Star Pupil) 
Flower: 9 weeks [[Photo]
Hybrid
Yield: Low stretch, high yield
75% sativa
Terpenes: Myrcene followed by
Linalool, Limonene, Caryophylenne, 
Humulene, Pinene Bisabolol.
7 Feminized seeds/ $90
Bringing back one of my first ever Pupil fem hybrids! Originally released for free in 2016 to celebrate legalization of cannabis in Massachusetts. A cross of UK Cheese S1 x Star Pupil. This new edition uses a freshly selected UK Cheese S1 which was extraordinarily similar to the one I used in '16, both are nearly identical to the original UK Cheese clone. This is a short and bushy plant, more on the indica side of the spectrum compared to my usual work. Most plants have a sweet, cheesy, nutty, plus candy pupily flavor combo, with some rare phenos expressing a bizarre solvent minty fuel thing going on. Lots of resin, buds vary from green to purple. Plants can flower as fast as seven weeks, but most will go 8-9 weeks.
We encourage all customers to follow the laws set forth by their Country, State / Province and local municipalities. Any Seeds sold will be considered sold FOR NOVELTY PURPOSES ONLY! We take no responsibility if they are used in any fashion that can be considered illicit or illegal. All sales are final.