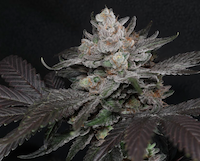 Curve Breaker
Product Details
Twenty/20 Mendocino
Curve Breaker 
Ave of the Giants #33 x The Whip!
6 Feminized seeds per pack 
Lineage:  Ave of The Giants #33 x The Whip!
Type: Indica dominant
Filial Generation: (F2)
PVI (Phenotypic Variation Index): Low to below average
Indoor Flower Time: 58-64 days
Outdoor Harvest Date: Early Oct
Trellising Requirements: Minimal
Height/Stretch: Low to below average
Yield (per sf):  Average to above average
Color: Purple with shades of green to full purple
Nose:  Sweet, anise, skunk, cloves, fuel 
Tips from the grower:  Great outdoor cultivar with the perfect structure.  Topping not always necessary as she tends to produce plenty of lateral branches.  
Notes: Ever since the Ave of The Giants was released, we have had an outpouring of requests to breed with the genetics.  We hunted two winning phenotypes (#B25 and #B7) from an outdoor garden in N. California and bred them together to make these outstanding F2 seeds. This is a great choice for the terp lovers who enjoy true connoisseur grade flower.  
We encourage all customers to follow the laws set forth by their Country, State / Province and local municipalities. Any Seeds sold will be considered sold FOR NOVELTY PURPOSES ONLY! We take no responsibility if they are used in any fashion that can be considered illicit or illegal. All sales are final.