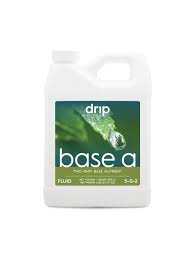 Drip Hydro Base A
Formulated from high-quality inputs with a large focus on bio-availability, Base A & B contain all of the necessary macro and micro-nutrients needed to ensure that your plants receive the proper nutrition throughout their entire life cycles.
Base A is formulated with a N-P-K of 5-0-2. This higher concentration of nitrogen plays a key role in your plant's coloring and chlorophyll production, making it an important factor in leaf development while the stronger concentration of potassium contributes to the overall health and vigor of your plants. Potassium is known to help strengthen plants' ability to resist disease, assist in the movement of water and nutrients in the plant, and help your plant optimally perform other biological functions. Base A also contains Calcium, Magnesium, Molybdenum, Chelated Copper, Chelated Iron, Chelated Manganese, and Chelated Zinc to ensure your plants receive the proper micro-nutrients they require and desire.
The iron in Base A is derived from two superior chelates: Iron EDDHA, an environmentally friendly form of Iron, and Iron DTPA. Both sources allow for use in a wider range of pH's and will remain in chelated form in your watering solution. We chose not to use Iron EDTA as a source in Base A because we found there to be less particulates and swings in pH with Iron EDDHA and Iron DTPA compared to Iron EDTA.
Maximize your plants' genetic potential for growth and production in any growing medium.
Part one of our simple and highly-concentrated two-part base formula.
Designed to be used throughout both the vegetative and flowering stages of any fruit or flower-producing plants.
Also contains Calcium, Magnesium, Copper, Iron, Manganese, Molybdenum, and Zinc.
Dilution:  6-13 mL (0.2-0.44 fl. oz) per 4 L (1 gallon) of water, throughout the life cycle of any fruit or flower producing plants.
Total Nitrogen (N) . . . . . . . . . . . . . . 5.0%
0.4% Ammoniacal Nitrogen
4.6% Nitrate Nitrogen
Soluble Potash (K2O) . . . . . . . . . . . . . 2.0%
Calcium (Ca) . . . . . . . . . . . . . . . . . 4.5%
Magnesium (Mg) . . . . . . . . . . . . . . . 0.2%
0.2% Water Soluble Magnesium (Mg)
Copper (Cu) . . . . . . . . . . . . . . . . . 0.008%
0.008% Chelated Copper (Cu)
Iron (Fe) . . . . . . . . . . . . . . . . . . . 0.03%
0.03% Chelated Iron (Fe)
Manganese (Mn) . . . . . . . . . . . . . . . 0.01%
0.01% Chelated Manganese (Mn)
Molybdenum (Mo) . . . . . . . . . . . . . 0.0002%
Zinc (Zn) . . . . . . . . . . . . . . . . . . . 0.004%
0.004% Chelated Zinc (Zn)

Derived From

Calcium Nitrate, Potassium Nitrate, Magnesium Nitrate, Ammonium Nitrate, Iron EDDHA, Iron DTPA, Manganese EDTA, Copper EDTA, Zinc EDTA, Sodium Molybdate