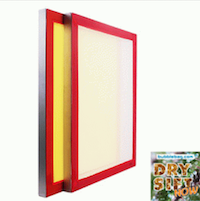 Dry Sift Screen Set: Large 2 Screens
Grower size Industrial strength trimming and collecting screens. Use these 2 screens for trimming, to collect plant crystals at the same time, or use them with dried trim to make dry sift.
ITEM
Large screen: 36" x 25" x 2" each
Mesh Sizes:
1. Top Screen: 149 Micron / 110 Lines per inch
2. Bottom Screen: 75 Micron / 200 Lines per inch
FEATURES
Two (2) monofilament polyester screens
Frame: Aluminum 6063 T5 Alloy (ROHS)
Glue: Chemond 2000-HTA (America), KIWO (Germany)
Pre-Stretched screens are stretched on a proprietary automatic stretching machine that has superior automatic mesh capture and stretching techniques
Closely matched tensions for all mesh count, with optimum tension levels and captured square to the frame
With these two screens you can quickly and efficiently extract your resins from the plant using the first screen and the second screen to help clean the contaminant that has fallen through with your first extraction. A secondary screen is extremely important for consistent quality to be achieved with dry sifting.