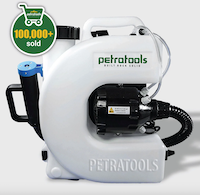 PetraTools Electric Backpack ULV Fogger
4 Gallon
The PetraTools Electric Backpack ULV Fogger has a pumpless action that saves you time, and money, and minimizes your effort on home and commercial cleaning, fertilizer and herbicide application, and pest control.
With this backpack fogger, you get precision fogging and spraying that lets you apply just the right amount of solution for your lawn, garden and crops - or give your home and business a quick clean from top to bottom.
From simple to complex applications, this electric fogger will give you faster and more positive outcomes every time. In addition, this backpack fogger comes with a handy carrying strap and a comfortable shoulder strap for easy transport. Get this electric fogger today and make your work easier tomorrow.