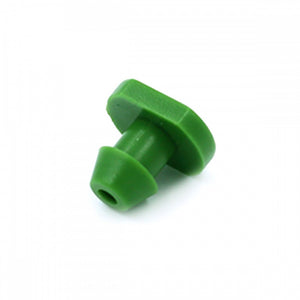 EMITTER PLUGS
Product Description
The FloraFlex Micro Drip Emitter Plug is a versatile solution for plugging existing holes in your ½" or larger diameter drip tubing. Whether you need to close off unused emitter holes or make adjustments to your irrigation system, these emitter plugs offer a convenient and reliable solution. With options available in 100pk or 1000pk, you can choose the quantity that suits your needs. The recommended PSI range for optimal performance is between 15 and 80 PSI. Ensure efficient and precise irrigation by using FloraFlex Micro Drip Emitter Plugs.
Key Features
Versatile Plug Solution: Use these emitter plugs to close off existing holes in ½" or larger diameter drip tubing, allowing for adjustments and optimization of your irrigation system.
Reliable Performance: Made with high-quality materials, these emitter plugs provide a secure and watertight seal, preventing leaks and ensuring efficient water distribution.
Wide PSI Range Compatibility: With a recommended PSI range between 15 and 80, these emitter plugs can accommodate various water pressure conditions for flexible irrigation applications.
Convenient Pack Sizes: Choose from the options of 100pk or 1000pk to match the scale of your irrigation project and ensure you have an ample supply of emitter plugs.
Product Details
Product Type: Micro Drip Emitter Plug
Recommended PSI Range: 15-80 PSI
Compatible Tubing: ½" or larger diameter drip tubing
Pack Sizes: 100pk or 1000pk