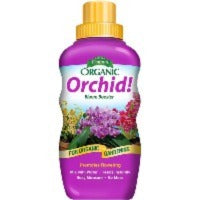 Espoma® Orchid! Organic Bloom Booster
For organic gardening, contains natural proteins and beneficial microbes that provide beautiful results. And the innovative Easy Dose cap pours the perfect amount without any measuring or mess. Mix with water to feed instantly. Promotes growth and flowers. Designed specifically for indoor plants.
• Shake well prior to mixing with water.
• Mix at a rate of 1/2 cap (2 tsp.) per quart of water. It is best to add concentrate and then add water for thorough mixing.
• Thoroughly drench the soil of the plant.
• Repeat every 2-4 weeks
Derived from hydrolyzed poultry manure, bone meal, hydrolyzed fish protein, hydrolyzed soy protein, potassium sulfate, and kelp extract.