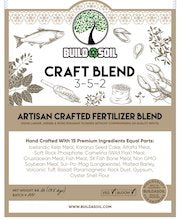 BuildASoil Craft Blend - Nutrient Pack
Ingredients all Equal by Weight:
Thorvin Premium Kelp Meal
Karanja Cake - Terviva
Alfalfa Meal
BuildASoil Calcium Phosphate
Camelina Meal
Crustacean Meal
Fish Meal
3x Fish Bone Meal
Soybean Meal
Sul-Po-Mag (Also Known as K-Mag or Langbeinite)
Organic Malted Barley
Volcanic Tuff
Micronized Basalt - Blue Ridge Meta
Gypsum
Oyster Flour
Adding up all of the Approximate NPK values published for these products from the manufacturer and then dividing by the amount of parts we end up with a very nice NPK guesstimate of 3-5-2. Once we get the blend tested we will publish actual results.
How To Use
Craft Blend weighs about 8.3 Ounces per cup ~ 1/2 pound per cup
Brew All Around Balanced Nutrient Tea's for Veg - Flower (1/4 - 1 Cup Per 5 gallon Bucket of Water)
Re-Amend your used Organic Soil at 2-4 Cups Per Cubic Foot
Top Dress at 1/4 - 1 Cup Per Plant.