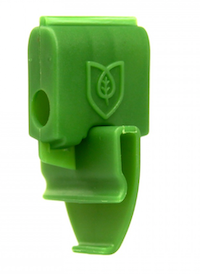 FLORA CLIP 2.0 | 1/4" TUBING CLIP | 12 PACK (USE W/ FLORACAP® & FLOOD + DRIP SQUARE SHIELD)
Use (2) FloraClips 2.0 with a FloraCap®

 

OR the Flood + Drip Square Shield with Tubing (1/4" OD) to automate your feed.
Dishwasher safe, and reusable.
BPA and lead-free plastic.
The FloraFlex® FloraClip 2.0 easily transforms your FloraCap® from a top-feeding unit into an automated top-feeding system.
Now simply clasp the FloraClip over your 1/4" OD tubing (instead of threading it through the opening) and clip it to your preferred location on the FloraCap®. Then sit back and let your FloraCap® do the rest!
We recommend you use (2) FloraClips per FloraCap®.