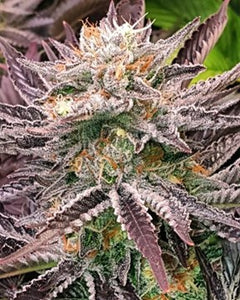 Forbidden Widow
Forbidden Widow (Forbidden Fruit x White Widow)
Flower: 8-9 weeks [Photo] 
Indica Dominant
5 feminized seeds/ $60
Forbidden Widow was bred by crossing Forbidden Fruit with White Widow. Plants have deep purple flowers with a pungent fruity scent. Forbidden Widow is an Indica-dominant strain.
Forbidden Widow is a fast-finisher. It is recommended that growers top plants at the sixth node and also prune the spindly, lower growth by the end of the third week of flowering. The internodal distance is short and plants develop dense buds, especially under LED lights. The purple buds and the bright green foliage become coated with a coat of glistening trichomes. The buds are very hard and compact.
This scent is strongly of passion fruit with some peach, orange and pineapple notes. Flavours include berries, candy and dough. Some reports have referred to faint traces of tropical fruits such as peach, mango, pineapple as well as citrus.
We encourage all customers to follow the laws set forth by their Country, State / Province and local municipalities. Any Seeds sold will be considered sold FOR NOVELTY PURPOSES ONLY! We take no responsibility if they are used in any fashion that can be considered illicit or illegal. All sales are final.