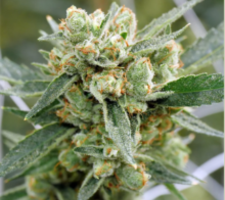 Golden Putang
Golden Putang (C99 and White Widow)

Flower: 8-10 weeks [Photo] 
Aroma: Strong juicy pineapple sharp with some phenos having putrid orange funk too
Stretch: 3x
Yield: Very high. 
7 Feminized seeds/ $90
A collaboration with Green Bodhi, the Golden PuTang is a fantastic sativa-dominant hybrid with intense terpenes, high potency, and incredible vigor. A really nice plant with incredible aromas and flavors, and a high yield. Expect sweet fruity flavors of pineapple, deep putrid sour orange, with skunky, hazy and gassy sharpness. A fantastic resin profile and texture, super gooey. These plants have a great yield and a solid 3x stretch, they do well with topping and you can save time in veg, flower them a bit smaller than many other strains because of their vigorous growth rate in the first 28 days of flower! I really love the way that the PuTang crosses well with sativa dominant varieties, and the Golden Pineapple is so special! She literally drips resin onto the sides of a jar. A cross of C99 and White Widow, the Golden Pineapple is a clone that Green Bodhi has held for over 20 years, and its easy to see why! This plant was a perfect match for my cup winning PuTang strain, which meshes really well with sativa. Branches benefit from support like trellis or stakes. Some phenos grow massive buds and some medium, both with heavy trichome coverage and dense flowers. Buds may flop down and hit the ground if unsupported. Early support encourages even larger flower formations.
We encourage all customers to follow the laws set forth by their Country, State / Province and local municipalities. Any Seeds sold will be considered sold FOR NOVELTY PURPOSES ONLY! We take no responsibility if they are used in any fashion that can be considered illicit or illegal. All sales are final.