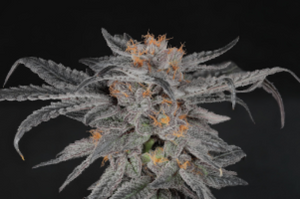 Humboldt Afghan
Heirloom Afghani [Photo]

Pure Indica
Filial Generation: S1
Phenotypic Variation: low
Indoor Flower Time: 50-60 days
Outdoor Harvest Date: Mid to late Sept
Trellising Requirements: none
Height/Stretch: very low to low 
Yield (per sf):  Above average
Color: ripens to deep purple
Nose:  sour grapes, fuel, ripe strawberry, skunk
6 Feminized Seeds/$70
A classic Indica, Humboldt Afghani takes her time in the vegetative stage by stacking a remarkable amount of nodes in a small area. Once in flowering, she goes into hyper-drive and the flowers grow fast and get huge. She loves lots of root space and generous feeding but be careful with nutrient buildup. Trellising is almost never required due to the stocky nature of the plants. This is the earliest ripening variety in the entire Twenty20 lineup. 
A great cultivar with a great story:  We were lucky to be gifted a few clones back in 2015 by a friend of the man who had originally traveled to Afghanistan to collect the seeds.  This variety is a perfect example and closely related to many of the purple indicas and purple kush's that were common in the Emerald Triangle in the 80's and 90's.  The flavor and smell of these legacy genetics are really out of this world! 
We encourage all customers to follow the laws set forth by their Country, State / Province and local municipalities. Any Seeds sold will be considered sold FOR NOVELTY PURPOSES ONLY! We take no responsibility if they are used in any fashion that can be considered illicit or illegal. All sales are final.