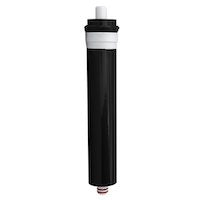 HYDROLOGIC STEALTH-RO150 / 300 MEMBRANE
Product Code: 75877
Filters up to 150 GPD (gallons per day) of ultra-pure, low PPM water. THERE ARE TWO INDICATIONS AS TO WHEN TO CHANGE YOUR MEMBRANES

1. Test the RO and source/inlet water to see what percentage of the inlet water's PPM the 150™ is filtering out (rejection %). You should see approximately 98% of the inlet PPM's being removed when the membrane is new. If the rejection % falls under an acceptable level (typically 90%) it's time to change the membrane.

2. When the flow rate of the product water slows down significantly. This can also happen if your pre-filters are clogged. If you change your pre-filters and the product water still flows slowly then it's an indication you need a new membrane.
Detailed description:
- 96% – 99% PPM Rejection - Membrane Type: Thin Film Composite - Maximum Operating Temperature: 113°F (45°C) - Maximum Operating Pressure: 100 PSI - Maximum Feed Flow Rate: 2 GPM - Maximum Feed Water Turbidity: 1 NTU - Maximum Feed Sit Density Index (SDI): 5 SDI - Chlorine Tolerance: <0 PPM - Dimensions (H x W x D): 12" x 2" x 2" - Weight: .5lbs