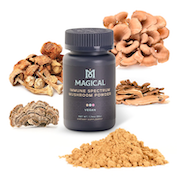 Immunity Blend Mushroom Powder
Description
Full bodyguard for your immune system with the Magical Immunity Blend Mushroom powder. Get your "fight on" with our blend of 4 unique species of mushrooms creating a synergy of immune benefits. Harness your natural defense with powerful beta glucans, digestive enzymes, fiber, prebiotics, antioxidants, and other nutrients to keep your body ready. Inside this blend you have: Agaricus Blazei, Maitake, Reishi, and Turkey Tail mushroom blends. ‡
---
For Best Results:
Immunity Blend mushroom powder should be taken daily. Easily incorporate 1 teaspoon into your daily wellness routine. Magical Immunity Blend Mushroom powder can be added to smoothies, coffee, tea, juice, soups, sauces, and more. 
---
Mushroom Supplements: 
Gluten-free, vegan, grown in the USA, paleo-friendly, keto-friendly, kosher. Our Magical Immunity Blend Mushroom powder is USA grown in Southern California and third-party lab tested to ensure the highest quality.  Here at Magical, we believe in the power of functional mushroom supplements to improve health and happiness.‡

---
Benefits of Immunity Blend Mushrooms: 
Powerful Immune Support: Combines 4 species 
Made to boost healthy gut and digestion  
Great for daily defense & manage stress 
Powerful beta-glucans 

 

‡

 
---
Inside Immunity Blend Mushrooms:
Agaricus Blazei: This tropical species is native to Brazil and is known for its high content of polysaccharide compounds. Agaricus blazei is also known for its effects on triglycerides and cholesterol management.‡
Maitake: Maitake contains an array of 1,3/1,6 beta-glucan compounds that have a positive impact on immune function. Maitake has also been shown to help support healthy blood-sugar levels and reduce insulin resistance.‡

Reishi: Revered in Traditional Medicine as the "Mushroom of Immortality", Reishi has a variety of attributes. Reishi acts as an immune potentiator and immune modulator - helping to balance and down-regulate an overactive immune system. Reishi has also been studied for its cardiovascular health benefits. Considered a "superior adaptogen", Reishi assists in adapting to mental and physical stressors.‡ 
Turkey Tail: One of the most researched of all medicinal mushrooms for its powerful polysaccharides. The beta-glucans and other nutrients found in Turkey Tail support immune health.‡ 
---
Supplement Facts:
Serving Size: 2 grams (Approx. 1tsp)
Servings Per container: 25 
Calories: 5 Per serving 
Mushroom Blend (2g): Reishi (Ganoderma Lucidum), Turkey Tail (Tramates Versicolor), Agaricus Blazei, and Maitake (Grifola Frondosa) mycelial biomass and fruit body powder cultured on oats.