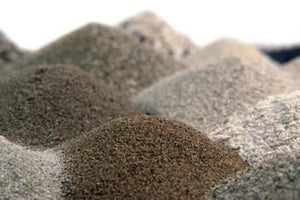 BuildASoil Complete Soil Building Kit - Coot Approved
Selecting the Right Nutrient Kit:
2.2 CF Bale Kit
Mix into a 2.2 CF Bale of Peat Moss plus 3 Cubic Feet of Compost and 3 Cubic Feet of Aeration.
What you'll be getting in the Kit:
Nutrients:
(Use at 2.5 Cups Per cubic foot of soil or about 5-6 Tablespoon per gallon of soil)
1. Crustacean Meal - Crab and Shrimp
2. Kelp Meal - Thorvin Organic Icelandic kelp
3. Neem Cake/Karanja Cake 70/30 - West Coast Hort. Neem and Ahimsa Karanja
4. Milled Malted Barley - Premium Organic 2 Row Malted Barley
Minerals:
(Use at 4 Cups Per Cubic foot of soil or about 1/2 Cup per gallon of soil)
1. BuildASoil Basalt - Our Favorite Rock Dust for trace minerals. Highly paramagnetic.
2. Gypsum Dust - Calcium and Sulfur
3. Oyster Shell Flour - Calcium Carbonate - Adds available calcium and limes the Peat moss.
What You'll Need To Get To Finish The Recipe:
To finish this recipe you will need equal parts of the below,
1 Part Canadian Sphagnum Peat Moss: Available in 2.2 Cubic Foot Bales, 3.0 Cubic Foot Bales and 3.8 Cubic Foot Bales at Home Depot and most gardening stores. Notice: The 2.2 Bale will fluff up to about 3.0 Cubic Feet, the 3.0 Bale will fluff up to about 4.67 Cubic Feet (Most people will round up or down to the nearest Cubic Foot) and the 3.8 Bale will fluff to about 6 Cubic Feet.
1 Part High Quality Compost or Worm Castings: Search for local compost or castings on craigslist or order some here on our website. If opting to use worm castings, we advise using only 5-15% of the 33% total compost due to the potential for sodium excess.
1 Part Aeration Amendment: Something to aerate the soil like perlite does in normal potting mix. We like to use Pumice and Rice hulls but you can use whatever is available to you including perlite, rice hulls, lava rock, pumice etc.