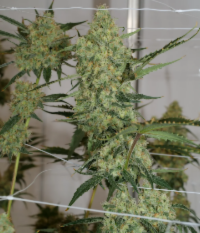 Juice Lord
Prayer Tower Sativa #2 x Tangie
Flower Time: 8-10 weeks [Photo]
Yield: High
Height: Medium-Tall (2-3x Stretch)
Difficulty: Easy
Flavor: Creamy, Fruit, Melon, Cantaloupe, Gas, Orange Juice,  Sweetness
13 Regular seeds/$80


Juice Lord is a limited edition regular cross using two strains that I've had a lot of success creating with in the past. The same Prayer Tower Sativa mother used in our Prayer Pupil, and a select frosty Tangie male! My favorite thing about this cross is the unique texture these flowers have, it is such a pleasure! When you break it up with your hands, you'll see this flower has something very different about it. It gets that flower texture from the Prayer Tower mom.
The Prayer Tower is mostly dominant in this line, and gives big flower size, texture, long shelf life, and amazing resin profile. The Tangie will influence phenotypes more subtly, his flavor profile never quite dominates, so you can enjoy the best of what Prayer Tower Sativa has to offer, with a smoothened juicy profile. These plants are truly one of a kind!
The genetic makeup includes such great hits as Lemon Thai, Appalachia, containing Chemdog and Afghani, as well as Tangie, an Orange Velvet Bx originally created by the legendary Subcool and then adopted by DNA Genetics. The Juice Lord is a lucky genetic combo, as these specific parents combined just right to make something super impressive!
​
You can expect a very happy uplifted effect when smoking the Juice Lord. Unlike so many strains these days, there will be no heavy crash to endure, simply feel-good vibes all the way around and even after the ride is done. You can expect gently psychedelic effects in some phenotypes, but nothing to scare away casual use, this is a very good vibe strain with positive headspace and lots of comfort and laughter!
​
Along with high thc (low 20s) there are minor amounts of THCV, CBD and CBG, under 1%, for trace cannabinoids.
Terpenes in order of most to least: Caryophyllene, Myrcene, Linalool, Nerolidol 2, Bisabolol, Humulene, Guaiol, Limonene
​