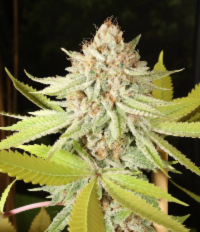 King's Pupil
King Pupil (Colombian D x I95 D F2 x Star Pupil)
Flower: 7-9.5 Weeks [Photo]
Stretch: 2x-2.5x 
Yield: High
THC: 26%
CBGA: 1.28%
THCV: .11%
CBD: .05%
Terpenes (In descending order from highest to lowest): Myrcene, Caryophyllene, Terpinolene, Limonene, Linalool, Pinene, Humulene, and Ocimene.
7 Feminized Seeds/$90
King's Pupil is a collaboration between Mass Medical Strains and Well Grown Seeds! A long time in the making, this cross features two versions, one by each of us, using the same cuts in reversed order (I reversed the SP, he reversed the COLD) The mother of my version is his Colombian D x I95-D F2, a plant that reminds me of haze and chem put together and has a soaring euphoric high, hard hitting and active. This combination with the Pupil brings down the flowering time, adds color, frost, bag appeal, density, and a synergistic effect profile. The high is active, long lasting, euphoric, with a brain and body hug from the universe, appreciation for nature and willingness for physical activity, movement, and more. The pink phenotype, as with any Star Pupil cross, is the one to look for, in my opinion, and has the best of all traits in it. These plants get very very frosty and many of them go super fast. The quickest ones were done in 7 weeks, and the longer ones may go 9 weeks or slightly more, with big yielding colas and intense terps. The flavor profile is haze, gas, chem, and pupil, all mixed together in pretty distinct layers. Both versions are very similar and it's all down to individual selection! 
 We encourage all customers to follow the laws set forth by their Country, State / Province and local municipalities. Any Seeds sold will be considered sold FOR NOVELTY PURPOSES ONLY! We take no responsibility if they are used in any fashion that can be considered illicit or illegal. All sales are final.