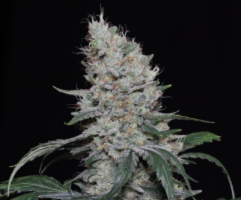 Knows Candy
Knows Candy (Trizzler x Muchacha)
[Autoflower] Hybrid 
Filial Generation: F4
Phenotypic Variation: Below average to Low
First sign of flower:  21-28 days from sprout
Total life cycle in days: 75-85
Height:  Medium to tall
Yield Index (per sf): high
Color: Almost always green but an occasional purple pheno will arise. 
Nose: A confusing combination of old garlic and black licorice candy and burnt rubber.
$70/6 Feminized seeds per pack
Notes: Faster than the Muchacha and heavier yields than Trizzlers, this really is the best of both worlds. She leans closer to Muchacha with sweet candy undertones inherited from the Trizzlers. Plants are very uniform in size, structure and smell.
We encourage all customers to follow the laws set forth by their Country, State / Province and local municipalities. Any Seeds sold will be considered sold FOR NOVELTY PURPOSES ONLY! We take no responsibility if they are used in any fashion that can be considered illicit or illegal. All sales are final.