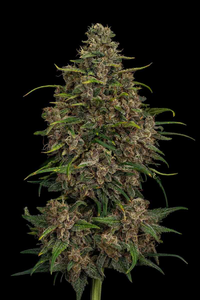 Go-Go
Go-Go (Bad Girl x White Tahoe Cookies x Glue Sniffer)
Indica Dominant [Auto]
Filial Generation: F4
Phenotypic Variation: Below Average
First sign of flower: 20-25 days
Total life cycle in days: 78-88
Height: average to above average  
Yield Index (per sf): above average
Color: mostly green but occasionally develops a bluish to light purple color
Aroma/Nose: Botanicals of juniper and lavender; sweet but spicy. Hints of savory green onions, fumes, and gassy undertones. Though rare, some will express a grape candy flavor and aroma.
6 Feminized Seeds/$70
Go-Go was a product of trying to recreate Bad Girl in autoflower form. The project veered off course but the results were nonetheless spectacular. Plants aren't unruly and huge but buds can get quite large.
We encourage all customers to follow the laws set forth by their Country, State / Province and local municipalities. Any Seeds sold will be considered sold FOR NOVELTY PURPOSES ONLY! We take no responsibility if they are used in any fashion that can be considered illicit or illegal. All sales are final.