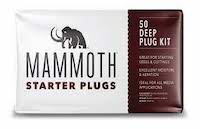 Mammoth Starter Plugs
MAMMOTH® Starter Plugs provide a 50/50 mix of coco coir and sphagnum peat moss, along with excellent moisture and aeration for all media applications.
DIRECTIONS
Directions for Use
Place your seeds or cuttings into the predrilled hole at the top of your Mammoth Starter Plug

Do not plant your seeds/cuttings too deep as to provide the most media for root development

For seeds, keep your trays in warm, dark place to optimize germination rate

Be sure to never reach temperatures of 90°F/32°C or above to prevent seed dormancy.

Monitor the moisure in your Mammoth Starter Plug.

You will want your plug to remain damp but not soaking. Your Starter Plug will not retain any more water than needed for root development.

Once you have visible root growth, you may transplant.