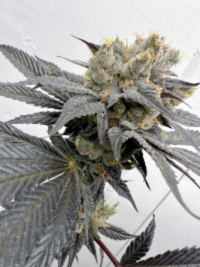 Mega Mind
Mega Mind (Don Mega X Mind Flayer)
Flowering: 9-10 weeks [Photo]
Hybrid
External production: 1200 gr.
Indoor production: 650 gr/m2.
Outdoor Flowering: Early-Mid October
6 Feminized Seeds/$100 
This is the first offering of a Don Mega cross in feminized form. Expect lush, large bushes with bright sandy frost. Mega Mind phenos tend to wash and may make beautiful, funky, flavorful hash. This plant is practically showing off with it's complex aroma of dank chemy funk with undertones of creamy vanilla gelato.
We encourage all customers to follow the laws set forth by their Country, State / Province and local municipalities. Any Seeds sold will be considered sold FOR NOVELTY PURPOSES ONLY! We take no responsibility if they are used in any fashion that can be considered illicit or illegal. All sales are final.