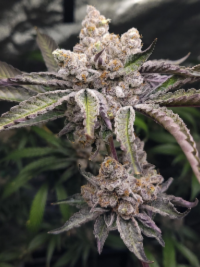 Mind Melter
Mind Melter (Strawberry x Mind Flayer)
Flower: 56 days [Photo]
Yield: High
Size: Large Multi-Topped Bush
Flavor: Chocolate covered strawberries
6 Feminized Seeds/$100
Expect large, luscious, purple bushes that yield dense, heavy, frost-covered flowers that tend to finish early. The resinous Mind Melter's smoke is extremely thick and heavy tasting like chocolate covered strawberries.
The "Mind Melter" Crosses is our go to Strawberry with the almost alien like Flayer. One of my personal favorites due to the overpowering rich strawberry jam smell and taste, these were only second to the Don cross in terms of yield. The Mind Flayers signature crown (& can be well seen in this wicked pheno pictured here. Colors ranged from dark army green with royal purple under leaves and wild red hairs to obsidian black flowers laced deep with magenta and covered in ice. Like the Block Monster she was very easy to grow and took nutes like a champ.     
We encourage all customers to follow the laws set forth by their Country, State / Province and local municipalities. Any Seeds sold will be considered sold FOR NOVELTY PURPOSES ONLY! We take no responsibility if they are used in any fashion that can be considered illicit or illegal. All sales are final.