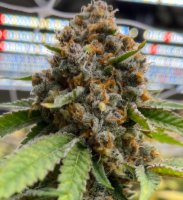 Mr. E Pupil
Mr. E Pupil (Mr. E x Star Pupil)
Flower: 9 weeks [Photo]
Terpenes: 5.51%
Yield: Heavy
Structure: Short, compact, bushy with great production. Best grown without topping.
7 Feminized seeds/ $90
Two east coast legends one together in this unique feminized hybrid. An incredibly potent smoke which can be influenced toward indica or sativa effects depending on temperatures, with warm environments producing more sativa, roadkill skunk phenotypes. Cheesy berry pupil types in standard or cooler temperatures, some have purple streaks and such pupil influence I the aroma along with strong cheese and berry candy mixed in. Short indica framed plants with heavy yield and extremely strong odor, high potency. Grows like an indica, smokes like a sativa.
We encourage all customers to follow the laws set forth by their Country, State / Province and local municipalities. Any Seeds sold will be considered sold FOR NOVELTY PURPOSES ONLY! We take no responsibility if they are used in any fashion that can be considered illicit or illegal. All sales are final.