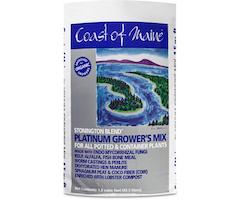 Coast of Maine Stonington Blend Organic Growers Mix 1.5cf
Stonington Blend™ Organic Grower's Mix is an OMRI listed, complex "Super Soil" designed for high performance growing in containers and large pots. It is for all growers who want a rich, seedling-to-harvest mix. Packed with nutrients from ocean based bi-products, and formulated with amendments known to boost budding, blooming, and root development, this perfectly balanced mix can sustain a plant for a full growing season and give you tremendous results without any additional nutrients added!
Made with: mycorrhizal fungi, lobster compost, worm castings, perlite, dehydrated hen manure, coco fiber (coir), lime, and a mixture of meals (kelp, alfalfa and fish bone.)
Just add water – This soil has everything already in it!
OMRI Listed for Organic Use
Designed for high performance Potted & container plants
Formulated from organic ingredients to provide an ideal balance between water retention, soil texture, drainage, and aeration in a consistent growing medium such as: mycorrhizal fungi, kelp, fishbone meal, alfalfa meal, worm castings, peat, and coir
Helps develop strong roots
Grows healthy vegetation, big blooms, and buds
When using a 15 gallon container (or larger) of Stonington Blend growers mix
Save your staff time, money and improve yields and flavor