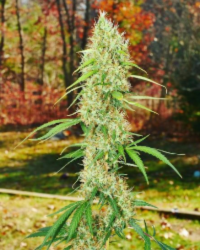 Pak Man
Pak Man (Praying Mantis x Swabi Pakistani)
Flower Time: 9-11 weeks, pheno dependent. [Photo]
Yield: High
Height: Medium-Tall. Does well with topping.
Flavor: Deep fermented fruit, spice, cream, gas, earth, minty fuel.
7 Feminized Seeds/$90
Mass Medical Strains' latest new-meets-old hybrid to create another totally unique plant! We combined our high-yielding, super-potent (31%), and fruity creation, the Praying Mantis, with the pure landrace Swabi Pakistani. This combination created a massive yielding, highly Sativa-influenced plant, which is very reminiscent of both parents in a few ways. The noteworthy fermented fruity flavor gets a deep spice twist, taking it down to a heavier more gasoline-influenced unique fruity and yogurty spice profile.
A medium bushy frame with big frosty buds all the way down. Terps of fruit and gas with some wild landrace style sharp and woodsy tones mixed in, plus nag champa and sour fuel. Great yields of high quality and unique buds with major mind appeal. Potential for thcv production as well!
The Praying Mantis parent gives a lot of sturdiness and intensity to this hybrid, while the Swabi Pakistani adds an even more unique touch to an already special fruity bud!
We encourage all customers to follow the laws set forth by their Country, State / Province and local municipalities. Any Seeds sold will be considered sold FOR NOVELTY PURPOSES ONLY! We take no responsibility if they are used in any fashion that can be considered illicit or illegal. All sales are final.