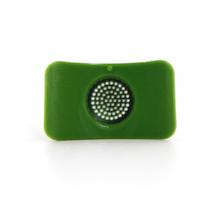 PotPro Platform Filter
Product Description
Upgrade your gardening setup with the FloraFlex POTPRO PLATFORM FILTER. This innovative filter is designed to enhance the functionality of the POTPRO PLATFORM, providing an extra layer of protection and improving the overall efficiency of your plant pot drainage system. With its durable construction and easy installation process, this filter is a must-have accessory for any serious gardener.
Key Features
Enhanced Filtration: The POTPRO PLATFORM FILTER effectively traps sediment, debris, and roots, preventing them from clogging your drainage system. This ensures optimal water flow and prevents blockages that could harm your plants.

Easy Installation: Installing the POTPRO PLATFORM FILTER is a breeze. Simply place it on top of the POTPRO PLATFORM before adding soil and planting your vegetation. The filter seamlessly integrates with the platform, providing hassle-free setup.

Durable Construction: Crafted with high-quality materials, the POTPRO PLATFORM FILTER offers long-lasting durability. It can withstand the demands of regular use, providing reliable filtration performance for your plants.

Compatibility: This filter is specifically designed for use with the FloraFlex POTPRO PLATFORM. It perfectly fits onto the platform, creating a seamless connection that enhances the overall efficiency of your drainage system.
Product Details
Product Type: Filter for POTPRO PLATFORM
Compatibility: Designed for use with the FloraFlex POTPRO PLATFORM