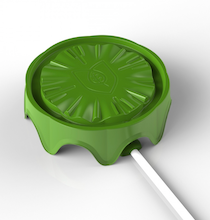 POTPRO PLATFORM (PLANT POT DRAINAGE) | 13" DIAMETER
Product Description
The User FloraFlex POTPRO PLATFORM is a cutting-edge solution for optimizing plant pot drainage. With its innovative design and superior functionality, this platform ensures your plants receive the ideal amount of water, preventing waterlogging and root rot. Made from BPA and Lead Free materials, it guarantees a safe and eco-friendly option for all your gardening needs.
Key Features
Efficient Drainage: The POTPRO PLATFORM's strategically placed drainage holes allow excess water to flow out, preventing water buildup and promoting healthy plant growth.
Versatile Compatibility: Designed to fit 13" diameter plant pots, this platform is compatible with a wide range of pot sizes, making it suitable for various plants and gardening setups.
High-Quality Materials: Crafted from BPA and Lead Free materials, the POTPRO PLATFORM ensures the safety of your plants and the environment.
Durable Construction: Built to withstand the rigors of daily use, this platform offers long-lasting performance, providing reliable support for your potted plants.
Easy to Clean: The platform's smooth surface makes cleaning a breeze, allowing you to maintain a hygienic and tidy gardening space effortlessly.
Product Details
Product Type: Plant Pot Drainage Platform
Diameter: 13 inches (33.02 cm)