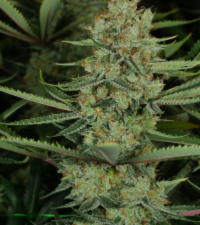 Prayer Pupil
Prayer Pupil (Star Pupil x Prayer Tower)

Flower: 9 weeks [Photo]
Yield: heavy
75% sativa
7 Fem seeds/ $90 
Flavor: Soapy, hashy, creamy, lavender.
Prayer pupil is an extremely delicious, mostly sativa hybrid plant for the most experienced takers. Plants grow easily and have a nice productive 2x stretch. A combo of our famous Star Pupil, an exceptional beautiful purple with a strong high, and Bodhi Seeds Prayer Tower Sativa (lemon Thai pheno) increasing yield and adding to the lavender hashy creamy flavor an interesting clean soapy hippie kind of California chemmy influenced smell. This is an F1 hybrid, and will somewhat grow tall if not topped. 2-3x stretch, some phenos will display light purple coloring, usually starting around week six. Flowers are done in 8-10 weeks. Frosty buds and good yields, they are best grown as a bushy plant.
We encourage all customers to follow the laws set forth by their Country, State / Province and local municipalities. Any Seeds sold will be considered sold FOR NOVELTY PURPOSES ONLY! We take no responsibility if they are used in any fashion that can be considered illicit or illegal. All sales are final.