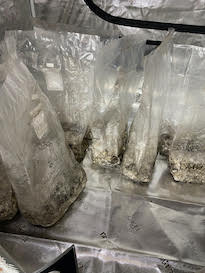 Pre-innoculated Mushroom Grow Bags
Strain: Mazatapec
These Pre-innoculated Mushroom Grow Bags are fully colonized and ready to go! Simply add indirect light and watch your mushrooms begin to develop! 
To harvest - cut open the bag above the filter patch and harvest your mushrooms. 
Resell your bag after for multiple flushes!
Temperatures above 87 and below 62 can hinder mushroom growth and development. Staying the the 70's promotes ideal fruiting conditions.