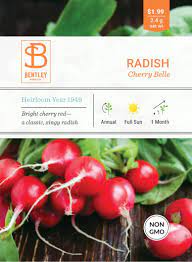 Radish- Cherry Belle
Round, crunchy and bright cherry red - these radishes have that classic zingy flavor that is so delicious in salads or as a snack!
After danger of frost has passed, plant Cherry Belle radish seeds 1/4" deep in prepared soil. Thin seedlings to 3" apart. Plant in early spring and again in fall 1 month before frost is due. Water regularly for best tasting radish. Great for containers.

CHERRY BELLE RADISH SEED INFORMATION:
Lifecycle:

 

annual (vegetable)
Time to Maturity:

 

about 1 month
Sun Requirement:

 

sun
Spacing:

 

3" apart
Depth:

 

1/4 inch
255-265 Heirloom Radish Seeds Per Packet 
Seeds/Oz: 2600
Ideal Germination Temperature: 50-80F
Sowing Method: Direct
Heirloom Year: 1949 Heirloom