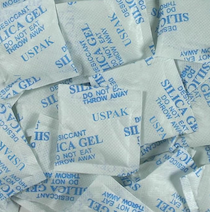 Silica Gel Desiccants
Packet - Fast and extra absorbent silica gel. 
Provides superior adsorption. Remains dry at maximum saturation.




Silica gel can adsorb 15% of its weight in water vapor in 2 hours.




Meets FDA specifications for contact with food and drugs.



1/2 gram silica gel packets dries and protects a 24 cubic inch volume container.
5 gram packet can cover approx. 235 cubic inch volume container.
10 gram desiccant packets can cover approximately 470 cubic inch volume containers.
25 gram Desiccant packets can cover approximately 1175 cubic inch volume container.
We recommend adding extra packets than suggested for better protection. Put your items and silica gel packets in a sealed container to protect your items from moisture damage.
Breathe new life into your desiccant packs! Try these drying techniques to get more out of your desiccant packs.
Oven: Bake packets for 0.5-2 hours at 200-250ºF.
Microwave: DEFROST packets for 7-12 minutes.
Notes:
– Start out with the least amount of time and increase the time if needed (i.e. color not fully returned to the original state or steam visible inside the packet.)
– Reactivation time varies depending on the types of packets, saturation level of beads, and types of oven or microwave