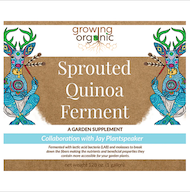 Sprouted Quinoa Ferment-1 gal
Description
Growing Organic's Collaboration with Jay Plantspeaker - Quinoa Fermented Extract - is a liquid fertilizer formulated to

stimulate life in your soil,
reduce plant energy requirements through amino acids,
and enhance crop growth organically.
It is fermented using lactic acid bacteria (LAB) and molasses to effectively break down the sprouted and milled quinoa seed. Our quinoa flour is sprouted and dried before milling on stone mills. The fermentation process allows for the nutrients and beneficial properties of the quinoa to be readily available. There are 21 free amino acids present in this ferment based on lab testing.  Therefore, when you apply the fermented extract by spraying the foliage or drenching the soil, the plants can uptake it immediately.
Application Rate: Use 1 oz – 4 oz of ferment per gallon of water. It can be used as a drench or foliar application.
Ingredients: Filtered Water, Organic Molasses, Organic Sprouted Quinoa, Lactic Acid Bacteria
Storage & Warnings:
Store in a cool & dark place at room temperature, 68ºF to 86ºF (20ºC-30ºC) and out of direct sunlight.
Keep out of reach of children.
Avoid contact with eyes or open wounds
Not for human consumption