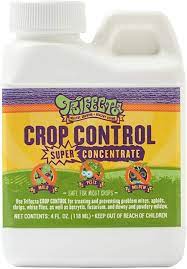 Trifecta Crop Control
About this item
NATURAL SOLUTION TO BEAT MILDEW, MITES, AND MOLD - Crop Control is hands down the BEST choice to protect and cure Powdery Mildew, Spider Mites, Russet Mites, Broad Mites, Botrytis, Grey Mold, Aphids, fungal and parasitic species on plants.

SUPER CONCENTRATED FORMULA SIMPLE AND EASY TO USE - Every half ounce of Trifecta Crop Control makes one gallon of ready to use spray - Simply mix with water and spray on your plants to prevent and cure up to one week before harvest and stay clean of mildew, mites and mold. The simultaneous modes of action create a powerful defense system that stops fungal and parasitic species dead in their tracks

SAFE FOR USE ON MOST PLANTS - Use for all crops including fruits, vegetables, herbs, spices, roses, flowers, trees, shrubs, houseplants, succulents, ornamentals and more with a no rinse, no residue spray. Save time and money with this quick and easy solution to mildew, mold, and fungus.

FARMER RECOMMENDED - Unique blend of food grade HIGHEST-QUALITY essential oils including garlic, thyme, clove and peppermint oils broken down to NANO-SIZE particles for MAXIMUM COVERAGE. Crop Control contains all-natural ingredients and pet-friendly and food grade product so you can feel good about what you are putting on your plants and the planet.

TOTAL HAPPINESS GUARANTEE - We are totally confident that Trifecta Crop Control will WORK for you. For ANY reason whatsoever, simply send us a message and we will be happy to offer you a fast, prompt refund. NO QUESTIONS ASKED.