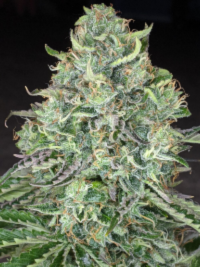 Trizzlers
Trizzlers (Triangle Kush, Watermelon Zkittlez)
[Autoflower]
First Sign of Flower:
19-24 days from sprout
Total Life Cycle: 72-82 days
Filial Generation: F2
Phenotypic Variation: Medium
Height: Low
Yield Index: above average
Nose: Gas, Cherry Candy, Strawberry, Fumes
$70 / 6 Feminized  seeds per pack
Flowers are extremely resinous with rich, nauseating terpenes. Leaf to bud ratio is extremely low. Expect a height of 3-5' in a 2 gallon container. For a dense canopy plant approximately 24"-30" apart in the ground or in 2+ gallon pots. Plant closer if using smaller pots. This cultivar is great for the flower market as well as an extractor's dream! 
We encourage all customers to follow the laws set forth by their Country, State / Province and local municipalities. Any Seeds sold will be considered sold FOR NOVELTY PURPOSES ONLY! We take no responsibility if they are used in any fashion that can be considered illicit or illegal. All sales are final.