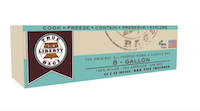 True Liberty 8 Gallon Bag, 24" x 40", Pack of 10
True Liberty® Industrial Strength bags are made to resist bursting and puncturing. Used by all kinds of families and farmers, from the household hobbyist to the commercial level grower, there is a bag size available to meet their needs. Whether they're used for curing, storing, keeping harvested crops fresher for longer, decarboxylation, or preventing unwanted odors or cross-contamination, True Liberty bags bring liberating solutions!
True Liberty Bags are made in the USA, FDA-approved, BPA-free, and made of 100% food-grade nylon. In addition to the many amazing harvest solutions, they are safe to use in your conventional oven, freezer, rice cooker, slow cooker, sous vide or on the stovetop, as they are resistant to cold, heat, fat, grease, oil and water. These bags offer a fantastically versatile tool for all around the home, garden, outdoor activities, and much more!