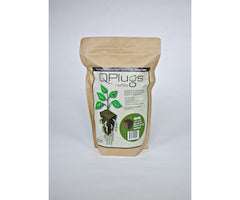 IHORT QPLUG Cubes
QPlugs aerated, water-holding texture was designed to start clones and seedlings in propagation trays. QPlugs are engineered to be transplanted into soil, rockwool, coco, or other standard growing substrates. These propagation plugs are ideal for commercial growers, and also offer ease of use for home gardeners.
QPlugs, with their stabilized growing media, will allow you to inspect, move or automate without damaging the plant.
Most growers have their own requirements. Not one size fits all. That's why these are offered in round plugs and square cubes. Square QPlugs are available in 50 count and 100 count bags, and the round QPlugs come in bags of 72.
QPlugs provide more air porosity for better roots and provide more water control than anything else on the market. Better roots equal healthier plants.
Proven to stimulate more root growth!
Plug Dimensions:
1.25" Width
1.25" Depth