Blogs — Pest control
Posted by Mike Warren on

Milk + Molasses = Magic in your garden         Do you know about the magic of milk and molasses in improving your garden? Yes, plain old milk of any kind – whole, 2%, raw, dried, skim or nonfat – is a miracle in the garden for plants, soil and compost. Molasses only boosts the benefits! Let's see how and why they work. Milk as Soil Food         Using milk on your compost and in your garden will probably come as a surprise to most.         Upon closer inspection, however, it starts to make sense....
Posted by Mike Warren on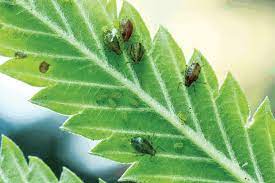 Pest/Pest Control    It'sa Bug's Life!!……Bugs like plants too! Some protect our plants, and others do harm to to our plants. So let's talk about the good bugs vs the not so good bugs. Pest insects are one of the biggest factors when it comes to failed cannabis crops. Pests eat cannabis roots, strip leaves bare, and even go after the buds. Having a PEST problem is no fun! It honestly was one of my biggest fears when I was in the beginning stages of growing, but with a little knowledge, and some learning curves, I am now able to...